Metal Roof Repair & Replacement
Metal Roof Contractors – For all your metal needs!
Metal (steel, aluminum, copper, or even zinc-titanium alloys) is one of the most popular and demanded roofing materials for residential, commercial, and industrial buildings.
Professionally mounted metal roof with industry-leading polymer coating is 100% reliable, durable, and attractive.
To add, modern metal roofing compliments any residential property increasing its market value.
ID Construction is one of the leading construction companies in Massachusetts that performs all types of roofing services.
Our roofers work according to high-quality standards, promptly and professionally. We install, renovate and repair metal roofs of any type, including metal shingles and standing seam panels.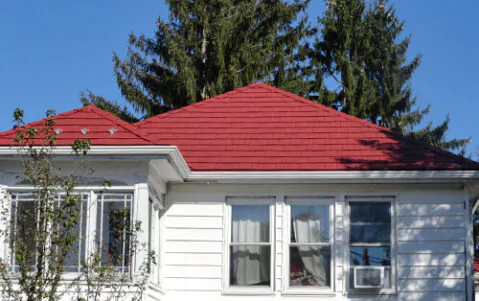 Why Choose Us
We Provide Professional Construction and Renovation Services with a Real Focus on Customer Satisfaction

Safety Estimate
We've taken enhanced precautionary measures to ensure a safe experience for our clients and employees.

Affordable Price
We save your budget and offer optimal solutions

Discounts for New Customers
Prepare your home for the fine weather days with quality facilities ID Construction company.
Call us +1 (617) 515-9124

Consultation Online
Call us for a FREE consultation today!
+1 (617) 515-9124
Our Services
We will Make Your Dreams Come True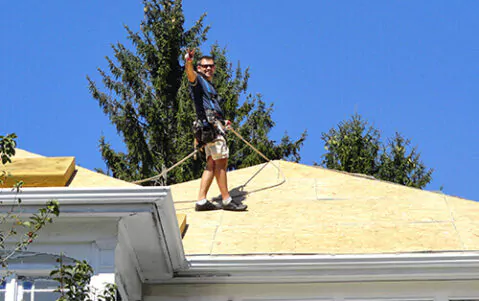 A professionally installed roof made of modern metal materials provides an impeccable appearance, a service life of 50+ years.
We install roofs which provide protection from bad weather, heavy rain, snow and resist even strong winds.
Our specialist's design and install roofs for new buildings, including a full range of preparatory work – installation of thermal insulation, sound insulation, appropriate roof lathing.
Our roofers use materials proudly made in America: from inexpensive (galvanized steel) to premium (copper roofing).
Our experts will select the best metal roof option for your budget, aesthetic requirements, and building standards.
Contact our specialists to find out more about advantages of metal roofs, to make an estimate, and select materials for your roofing projects.
Types of Metal Roof We Install
We will Make Your Dreams Come True
Our roofers usually recommend installing one of the following metal roofs: metal shingles or standing seam panels roofing.
Both technologies are distinguished by their reliability, good insulating properties, and really long service life.
Types of Metal Roof We Install
Metal shingles are polymer-coated sheets of metal that look similar to prestigious roofing materials but cost less.
Due to 'coating' metal shingles are protected from corrosion and can be produced in different colors (grey, black, brown, red, green, blue, etc).
Long story short, you can choose Metal shingles that suit the architecture of the building and your personal aesthetic tastes.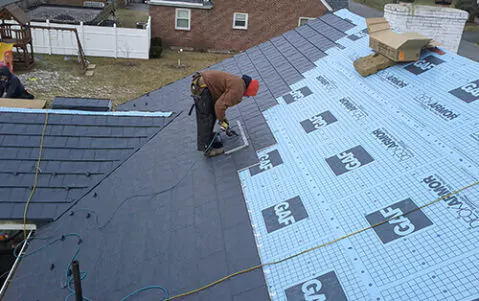 Standing seam panels are the most sealed roof ever.
It is suitable for all climatic conditions, looks neat and attractive, does not require maintenance.
Moreover, this technology is supposed to be the best choice for projects with large roof areas.
Standing seam panels are specially processed metal sheets that are connected to each other using a special hermetic 'lock'.
Our experienced roofers use advanced installation technologies and can mount roofs standing seam panels of any shape.
Why Particularly Us?
Why Particularly Our New Home Building Company?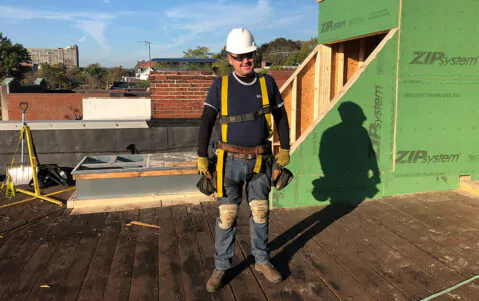 ID Construction is a team of professionals who work according to construction standards, have all the necessary licenses, and always give a guarantee for the work performed.
Our company cooperates with reliable suppliers of materials for metal roofing and offers its customers a wide range of options – materials of different colors and different classes, from inexpensive to premium.
If you are looking for a reliable and attractive metal roof that will last for decades and reliably protect your home no matter what – contact our specialists and discuss your plans.
What People Say
Find Out Why People Love Working with ID Construction Company
They did a great job fixing a leak around my chimney. I really appreciated how careful they were with covid precautions too.
Beth Hestad
They did a great job fixing a leak around my chimney. I really appreciated how careful they were with covid precautions too.
Beth Hestad