Home Remodeling
We Want You to Love Where You Live
Our company provides new home construction services together with qualitative remodeling options.
With the help of exterior and interior renovations, you can update fixtures, extend the space, recompose your room design, and find an extra area for indoor and outdoor installations.
Enlarge your capabilities, implement new amenities, and customize your home according to your demands with the most reliable remodeling contractor.
The best cost-grade ratio complements the great experience and skillfulness of our workers.
We meet all the deadlines and never leave our clients unsatisfied.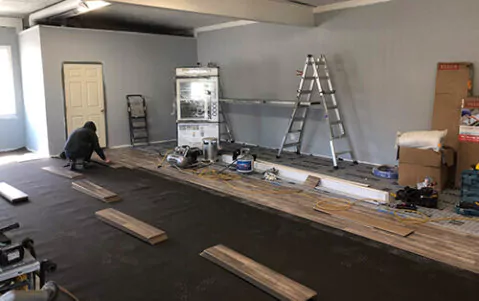 Why Choose Us
We Provide Professional Construction, Renovation, and Roof Services in Boston and throughout MA with a Real Focus on Customer Satisfaction

Safety Estimate
We've taken enhanced precautionary measures to ensure a safe experience for our clients and employees. We are one of the construction companies in MA with all certificates, insurance, and local work permits.

Affordable Price
We put effort and experience into saving your budget and offer optimal solutions for any project, including commercial and residential roofing services.

Discounts for New Customers
You have already found the best 'near me' construction company. Prepare your home for the fine weather days with ID Construction Company services.
Click to Call For a Free Quote

Consultation Online
Do you want to know more about new construction, renovation, or roofing services in Boston? Click to Call for a FREE consultation today!
Our Service Range
We will Make Your Dreams Come True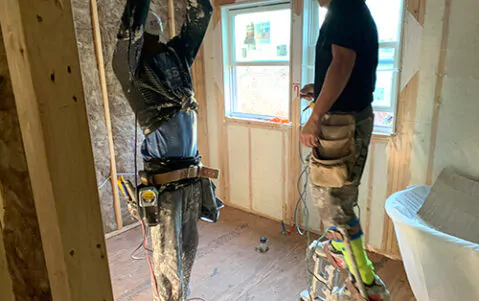 In comparison with other home renovation companies, we offer a wide range of services to take into consideration.
You can count on individual approach, the best quality-price ratio, and high-grade deadline management when it comes to:
Kitchen remodeling;
Bathroom remodeling;
Finished basement;
Backyard renovations;
Other exterior and interior redesign options.
Whole-House Remodel
Every Detail Matters.
Whole-house remodel can take place if necessary.
It means that each room will be redesigned by our professional team to meet our clients' expectations.
This way you will stay pleased with the final transformation of the entire part of your house.
Additionally, the whole-house remodeling project can be divided into two stages: interior and exterior redesign.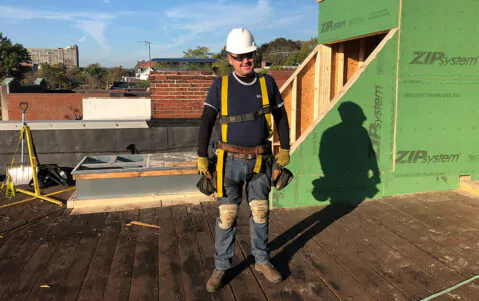 Exterior Redesign
We modernize the front of the house, remodel the yard, and other exterior objects like the porch, garage, outdoor stoops, etc.
This way the appearance of your home will be significantly transformed.
Residential painting, roofing, and window & door replacement are available.
Interior Redesign
Any room can be customized with our extraordinary design solutions for bathrooms, laundry room, attic, bedrooms, living rooms, halls, balconies, nursery rooms, kitchens, etc.
Our accomplished projects prove the fact that everything is possible.
Renovations will bring new opportunities for furniture rearrangements, secure shelving, or specialty lighting.
The Heart of the Home Reimagined and Redesigned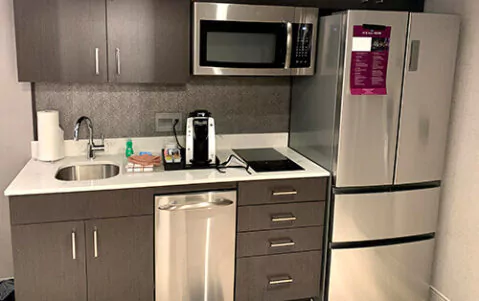 We undertake a multifaceted approach when it comes to the kitchen redesign.
Our clients often ask about carpentry and tile works to transform the interior of this room.
Functionality comes first when we speak about kitchens.
That is why we create the best conditions for the updated appliances implementation and rearranging of cooking and eating spaces.
Our dedicated team runs:
Double-oven installation;
Countertop island redesign;
Extra garbage disposal area arranging;
Galley kitchen redesign, etc.
Bathroom Transformations to Enrich and Enhance Your Life
Bathroom customization is a must for your comfort and high-level relaxation after an exhausting workday.
We offer different projects to make this room spacious and cozy for you.
Our budget bathroom remodel includes the installation of new bathtubs and showers with sliding doors.
Additionally, our service range consists of the following options:
Spa-like redesign;
Stream bath and soaking tub installation;
Heat-insulated flooring;
Walk-in shower installation;
Energy-efficient lighting;
Countertop design, and others.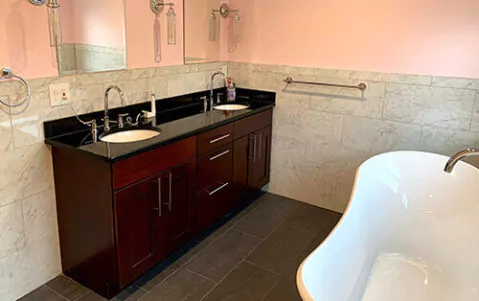 A Custom Basement Everyone Will Love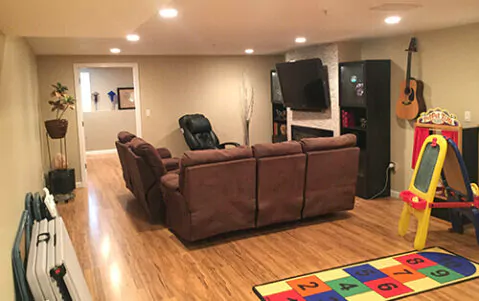 We make a specialty out of a finished basement that includes preparative works with anti-moisture treatment, air circulation checks, and interior transformations.
Our team will realize your plans focused on the basement space enlargement and remodeling.
You can get a modern home-based gym or spacious storage compartment premises for tools and other things.
You can rely on us when it comes to your house renovations.
Our company has already accomplished numerous projects with bay window installation, attic redesigns, and implemented light fixtures.
Contact our managers to talk over your expectations +1 617-515-9124
What People Say
Find Out Why People Love Working with ID Construction Company