Open Cell Spray Foam Insulation
Begin Transforming Your Home Today
Usually, owners think of modern furniture, stylish design first. But the protection of walls, basement, roof, and other structural parts of the premises are required as well.
The insulation procedures come in handy speaking about home renovations and the improvement of heat-saving properties.
One of the most reliable ways to prevent moisture development, mold growth, and other unpleasant situations is using spray-on insulating foam.
The ID Construction home remodeling company is a leading American repair and renovation contractor you can count on when it comes to spray foam insulation.
Our housebuilders use both open-cell and closed-cell sprays to improve the heat saving efficiency in times.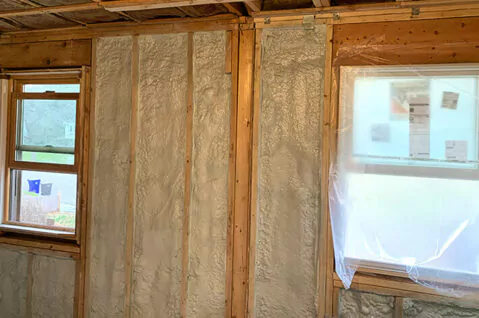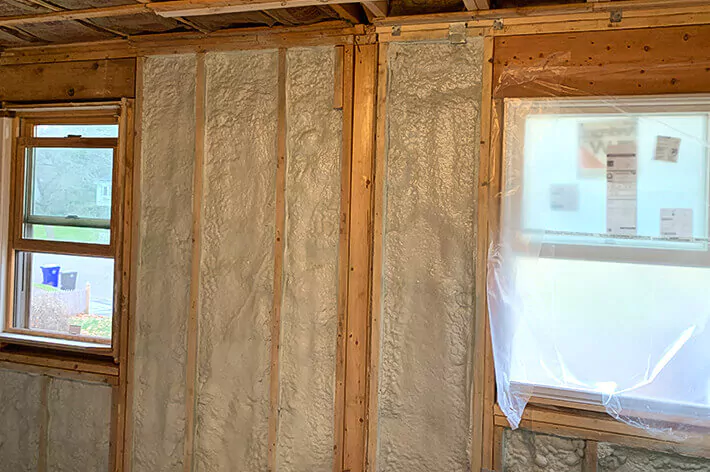 Open-cell spray foam insulation is widely used for nooks and attic crannies, wall cavities, and other parts of the house.
It is a sufficient thermal barrier your commercial or residential premises require to be prepared for weather extremes, severe winds, and seasonal temperature changes.
If you need high-quality house remodeling services including insulating options and other upgrading procedures, opt for the ID Construction dedicated and experienced team.
Why Choose Us
We Provide Professional Construction, Renovation, and Roof Services in Boston and throughout MA with a Real Focus on Customer Satisfaction

Safety Estimate
We've taken enhanced precautionary measures to ensure a safe experience for our clients and employees. We are one of the construction companies in MA with all certificates, insurance, and local work permits.

Affordable Price
We put effort and experience into saving your budget and offer optimal solutions for any project, including commercial and residential roofing services.

Discounts for New Customers
You have already found the best 'near me' construction company. Prepare your home for the fine weather days with ID Construction Company services.
Click to Call For a Free Quote

Consultation Online
Do you want to know more about new construction, renovation, or roofing services in Boston? Click to Call for a FREE consultation today!
LOOKING FOR A QUALITY AND AFFORDABLE CONSTRUCTION COMPANY FOR YOUR NEXT PROJECT?
Our Services
We will Make Your Dreams Come True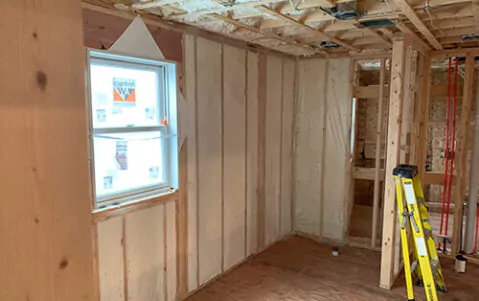 We make a specialty out of spray foam insulation.
Open-cell foaming is recommended as an effective alternative to traditional materials when it is necessary to reach into difficult-to-access voids.
Additionally, its application is very fast and easy that saves time and costs on residential and commercial remodeling works. Our professional housebuilders will apply open-cell spray foam quickly and qualitatively.
It is worth noting that in comparison with other reputable American home improvement companies, ID Construction provides a full range of services including surface Inspection, planning, and open-cell insulation installation.
Open Cell Insulation Installation
Right after all preparation works come to an end, our specialists apply open-cell foaming insulation with the help of the expanding insulating mixture upon the existing applicator nozzle.
The spray-on material improves the heat-saving specifications of the walls, nooks, crannies, etc.
Open-cell spray foam insulation comes in handy during:
Cavity improvements;
Plumber repairs;
Addition and garage remodel works;
Rim joist updates;
Reparation of crawl spaces, etc.
Additionally, this type of insulation is recommended to achieve cooling properties in the condition of the hot and dry climate. This way the temperature inside the house will be well-regulated.
Your microclimate will benefit from the open-cell foaming for sure.
Open Cell Insulation Replacement
It is worth noting that some remodeling works and reparation activities require the replacement of the old insulating material.
Our specialists remove damaged insulation and apply a new reliable and well-pliable open-cell mixture to protect your residential and commercial premises.
Due to the high expansion rate, open-cell spray foams will become an appropriate solution for your attics with small-size nooks and crannies, and for other parts of your house.
The lightweight structure of this insulating material can also require some trim procedures in case of the open cell on-spray foam excess.
Our clients will be pleased with the final result because the ID Construction team is responsible both for the min process of insulation and the very final touches.
Contact our managers to get more information on our affordable prices and other details.
Discuss with our dedicated consultants your project and place the order to stay absolutely satisfied with high-grade open-cell insulation and a well-protected home.
LOOKING FOR A QUALITY AND AFFORDABLE CONSTRUCTION COMPANY FOR YOUR NEXT PROJECT?
What People Say
Find Out Why People Love Working with ID Construction Company