Closed Cell Foam Insulation
Begin Transforming Your Home Today
The most comfortable house is a well-constructed and well-equipped residential building.
But one more essential thing house owners should take into consideration when it comes to home renovation is the microclimate inside their residential and non-residential premises.
To arrange the most comfortable temperature indoors, the walls, ceilings, basement, attic, and other parts of the building should be insulated with high-resistant foaming materials.
The ID Construction remodeling contractor makes a specialty out of high-quality insulation and other renovation works to provide American house owners satisfied with their microclimate and comfort at home.
We deliver our services in Newton and throughout Massachusetts. Our clients can count on well-thought planning and perfect repair and remodeling work execution.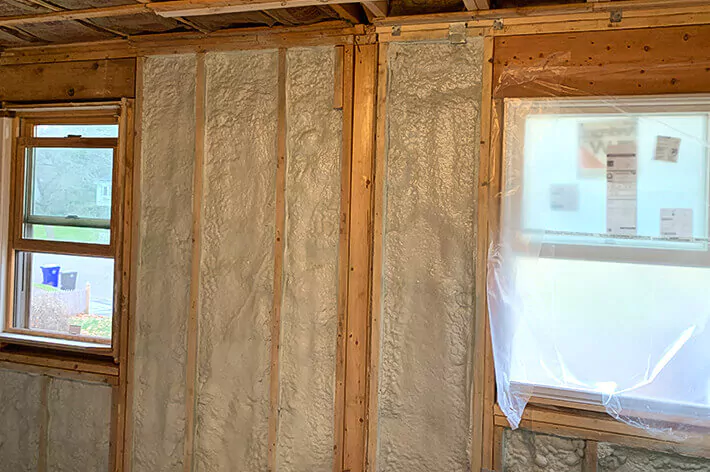 Having been considered as one of the leading home improvement companies in the USA, we obtain a wide range of insulating solutions both for commercial and residential premises.
One of the most demandable insulation types is closed-cell foaming of the attics, basements, cavities, and other parts of the building.
Why Choose Us
We Provide Professional Construction, Renovation, and Roof Services in Boston and throughout MA with a Real Focus on Customer Satisfaction

Safety Estimate
We've taken enhanced precautionary measures to ensure a safe experience for our clients and employees. We are one of the construction companies in MA with all certificates, insurance, and local work permits.

Affordable Price
We put effort and experience into saving your budget and offer optimal solutions for any project, including commercial and residential roofing services.

Discounts for New Customers
You have already found the best 'near me' construction company. Prepare your home for the fine weather days with ID Construction Company services.
Click to Call For a Free Quote

Consultation Online
Do you want to know more about new construction, renovation, or roofing services in Boston? Click to Call for a FREE consultation today!
LOOKING FOR A QUALITY AND AFFORDABLE CONSTRUCTION COMPANY FOR YOUR NEXT PROJECT?
Our Services
We will Make Your Dreams Come True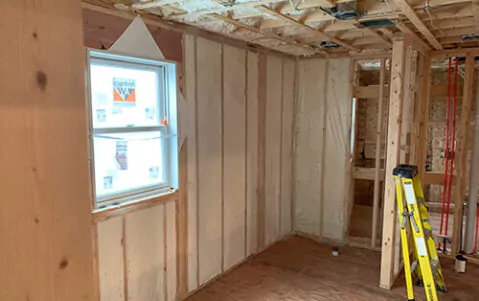 The ID Construction experts undertake closed-cell spray foam insulation fast and qualitatively.
First, the inspection of all the surfaces takes place.
When all the insulating procedures are planned, our specialists apply closed-cell foam to protect the house from the negative impact of weather changes and temperature bounces.
With the help of closed-cell insulation, the humidity inside the building is cut down.
It is an appropriate vapor barrier and qualitative protection against moisture and mold development.
Closed Cell Insulation Installation
The application of the foam is undertaken through spraying nozzles that produce dense polyurethane bubbles. The blowing agent fills well all the cavities and other parts of your premises, having improved structural integrity in times.
Our experts handle insulating works to prevent moisture build-up and water damage caused by weather extremes. Additional benefits delivered by the closed-cell spray foam insulation are the following ones:
Prevention of bacterial growth indoors.
Qualitative water penetration inside the house.
A reliable vapor barrier to cut down the wetness index.
Count on our experts when it comes to insulation and other home remodeling tasks.
It is worth noting that we provide not only open-cell or closed-cell insulating services but undertake hybrid foam insulation for your extra convenience.
Application of Hybrid Foam Insulation
To add some strength to the surface (walls, ceiling, cavities, etc.) and increase the R-value rate, the hybrid insulation application is recommended.
Our specialists use both open-cell and closed-cell foams to provide your house with an extremely rigid structure and complement it with an efficient vapor barrier.
Such a multiple and combined approach is considered highly-effective for structural parts with different depth and other parameters. For example, when one foam will come in handy for attic insulating procedure, another insulating material is required for upgrading nook heat-saving properties.
In this case, hybrid insulation is applied by our skillful experts.
Additional Options
Our supplementary service range includes many house remodeling and improvement options.
Old insulating material removal, insulation planning together with addition, basement, or kitchen redesigns are available. You can find out more about our full range of services when contact with our managers.
Specify your demands, and our dedicated team will realize your project without any problems.
LOOKING FOR A QUALITY AND AFFORDABLE CONSTRUCTION COMPANY FOR YOUR NEXT PROJECT?
What People Say
Find Out Why People Love Working with ID Construction Company