Roll Insulation
Begin Transforming Your Home Today
The real warranty of the optimal microclimate at home is well-protected its structural parts.
All the walls, roof, ceiling, and basement of residential and commercial properties require high-level insulation.
This way the heat-saving properties will be improved and the appropriate temperature will be achieved indoors.
The ID Construction remodeling contractor is ready to insulate any part of your house.
If you are thinking of a home renovation project and insulation services, our dedicated team will offer the best solution that suits your commercial or residential premises.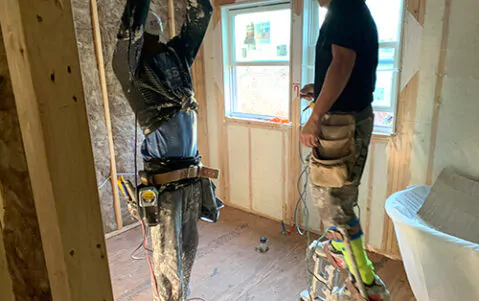 Massachusetts' Premier Door Installation Service
We Provide Professional Construction, Renovation, and Roof Services in Boston and throughout MA with a Real Focus on Customer Satisfaction

Safety Estimate
We've taken enhanced precautionary measures to ensure a safe experience for our clients and employees. We are one of the construction companies in MA with all certificates, insurance, and local work permits.

Affordable Price
We put effort and experience into saving your budget and offer optimal solutions for any project, including commercial and residential roofing services.

Discounts for New Customers
You have already found the best 'near me' construction company. Prepare your home for the fine weather days with ID Construction Company services.
Call us at +1 (617) 515-9124

Consultation Online
Do you want to know more about new construction, renovation, or roofing services in Boston? Call us for a FREE consultation today!
+1 (617) 515-9124
LOOKING FOR A QUALITY AND AFFORDABLE CONSTRUCTION COMPANY FOR YOUR NEXT PROJECT?
Our Services
We will Make Your Dreams Come True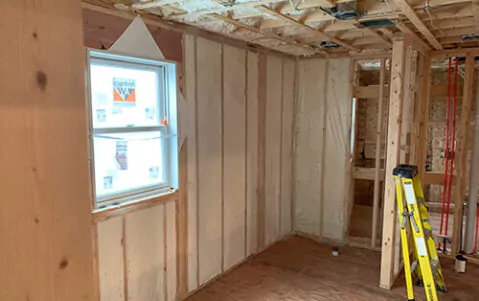 Besides kitchen redesign, addition designing, roofing, landscaping options, we provide a wide range of insulating techniques to choose from.
Our insulation solutions are always cost-effective and efficient for thermal performance rates indoors.
One of the most popular indoor insulation types is the roll (or blanket) one. The insulating material comes in rolls or batts.
We provide a wide range of components because rolls can be made of minerals, fiberglass, etc.
In comparison with other home improvement companies and local handymen, we are responsible for the insulating materials we use for construction and repair works.
Roll Insulation Installation
First, surface inspection takes place. Our experts survey walls, floors, and other structural parts of your house that are going to be insulated. It is worth noting that comprehensive surface inspection offers to select the most appropriate roll insulation.
All the rolls and batts vary in their density type. In some cases, medium-density blankets are required, in other ones – high-density rolls are a must to provide the building with coldproof properties and weatherize it well.
Additionally, it is worth noting that our insulating works depend on the type of rolling material used for installation.
Our specialists insulate any specified surfaces inside the house with batts and rolls made of the following high-grade composites:
Fiber grass
Mineral wool
Plastic and
Natural fibers
Cotton wool, etc.
Other characteristics of blankets and batts are also taken into account to provide our clients with extremely pleasurable final results.
If necessary, we undertake other residential and commercial remodeling works when it comes to roll insulation.
Facing and Other Finishing Touches
This is the best way of your roll insulation customization. For example, you would like to make your house even more resistant to severe winds and vapor irritants. It is possible with an appropriate facing. Our experts will recommend the best one and undertake its installation timely and qualitatively.
Among the most popular facing materials are vapor-barrier foil-craft paper and vinyl.
Additionally, there is a special line of fire-resistant facing variants to take into consideration. The flame-proof roll insulation facing is widely used for basements.
Contact our managers to discuss in detail your order.
We promise you absolutely individual approach and affordable price. Let us become the most reliable house remodeling contractor and prove that our company is worth your attention, time, and money. Waiting for your call and feedback if you are our dear client!
LOOKING FOR A QUALITY AND AFFORDABLE CONSTRUCTION COMPANY FOR YOUR NEXT PROJECT?
What People Say
Find Out Why People Love Working with ID Construction Company
They did a great job fixing a leak around my chimney. I really appreciated how careful they were with covid precautions too.
Beth Hestad
They did a great job fixing a leak around my chimney. I really appreciated how careful they were with covid precautions too.
Beth Hestad