Insulation Home
Control the Climate Inside Your Home With the Right Insulation
A really comfortable house is that one where all family members feel well.
Starting with appropriate curtains in the kitchen and finishing with a proper microclimate indoors with convenient temperature parameters.
The ID construction remodeling contractor makes a specialty out of the entire sealing and insulation of commercial and residential premises.
Our dedicated team pays attention to each detail when it comes to the comfort inside your house.
That is why our home renovation service range includes the attic, wall, and basement insulation to make your property even comfier than before.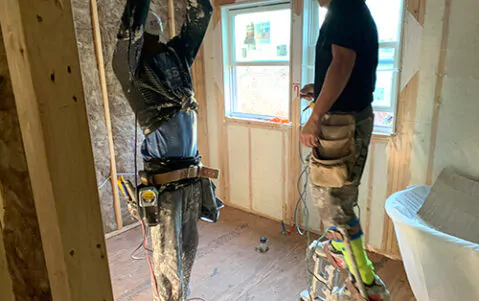 Why Choose Us
We Provide Professional Construction, Renovation, and Roof Services in Boston and throughout MA with a Real Focus on Customer Satisfaction

Safety Estimate
We've taken enhanced precautionary measures to ensure a safe experience for our clients and employees. We are one of the construction companies in MA with all certificates, insurance, and local work permits.

Affordable Price
We put effort and experience into saving your budget and offer optimal solutions for any project, including commercial and residential roofing services.

Discounts for New Customers
You have already found the best 'near me' construction company. Prepare your home for the fine weather days with ID Construction Company services.
Click to Call For a Free Quote

Consultation Online
Do you want to know more about new construction, renovation, or roofing services in Boston? Click to Call for a FREE consultation today!
LOOKING FOR A QUALITY AND AFFORDABLE CONSTRUCTION COMPANY FOR YOUR NEXT PROJECT?
Our Services
We will Make Your Dreams Come True
For warm-saving improvement of walls, attic space, and other structural parts of the building we use only high-quality materials produced by top-ranking American manufacturers.
The ID Construction service range includes different house remodeling techniques and insulating solutions to satisfy the demands of clients in full.
Spray Foam
The special substance is called spray polyurethane foam is often used as the main insulating product. It provides a powerful barrier against weather changes, severe winds, and other external irritants like frost, outside temperature bounces, etc.
Additionally, spray foam protects walls and other insulated parts of the building from moisture development.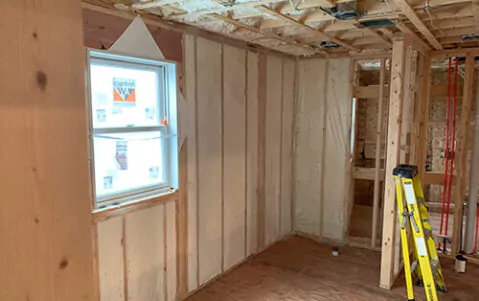 Open & Closed Cell
The open-cell foam is notable for its flexibility and softness.
Our experts will insulate your walls, attic, garage, additions, and other parts of the house using the open-cell technique. Additionally, closed-cell insulation is available. This foaming type is used to prevent moisture development due to the special type of insulating closed cells.
The ID Construction specialists will handle the procedure that will protect your house from the unpleasant impact of the wetness and moisture agents.
Count on one of the most reliable home improvement companies in the USA when it comes to open and closed cell foaming.
ISO Insulation
For ISO insulation our professional workers use a special thermoset plastic product that is also called as polyiso or PIR. Its substance is usually performed as foam for roofing insulation and above-deck constructional parts of the commercial or residential premises.
You can opt for our professional insulating services when it comes to your home comfort and indoor improvement measures.
Tapered Insulation
The best solution for roofs with a low-slope design.
If you require tapered insulating services, we are ready to undertake this procedure quickly and protect your house from snow-melting leakages and severe winds that take place in any season.
This is the best way to arrange your groundworks and enforce your foundation.
Basement Insulation
For this purpose, our specialists use single-purpose rigid foam boarding. Also, this technique for basements is called hardboard pink insulation.
The main advantage of this insulating procedure is the moisture-resistant property and coldproof (warmth-keeping) capabilities.
If you would like to improve your basement, this solution will come in handy. And our experienced experts will realize the project.
Roll Insulation
One of the most demandable insulation-oriented materials is a rolled one.
Our company offers the installation of blanket (or roll) insulation made of various products. The range of our services includes batts and rolls made of:
Fiber grass
Mineral wool
Plastic and natural fibers
Cotton wool, etc.
To save warmth and avoid wetness inside your house, count on the insulation services.
Our specialists are ready to insulate your house and cut your bills for heating and air conditioning in summer.
Additionally, contact us if you require other exterior nab interior upgrades like kitchen redesign, roofing, bathroom remodel, etc.
LOOKING FOR A QUALITY AND AFFORDABLE CONSTRUCTION COMPANY FOR YOUR NEXT PROJECT?
What People Say
Find Out Why People Love Working with ID Construction Company