Asphalt Roofing: What Is It and Why Should You Consider It?
Asphalt roofing materials enjoy great demand in Needham, Massachusetts. They're compatible with most houses, and their performance characteristics are outstanding. Compared to many alternatives, asphalt is more budget-friendly. It looks stunning, and it can cope with any weather conditions. We'll be glad to install an asphalt roof for you. We've been doing it for many years, and all our team members are true experts in this niche. Leave your contact details on this page, and we'll get back to you to provide a free estimate! Meanwhile, in this article, we'll tell you what's so particular about this type of roofing and how to make the most of it.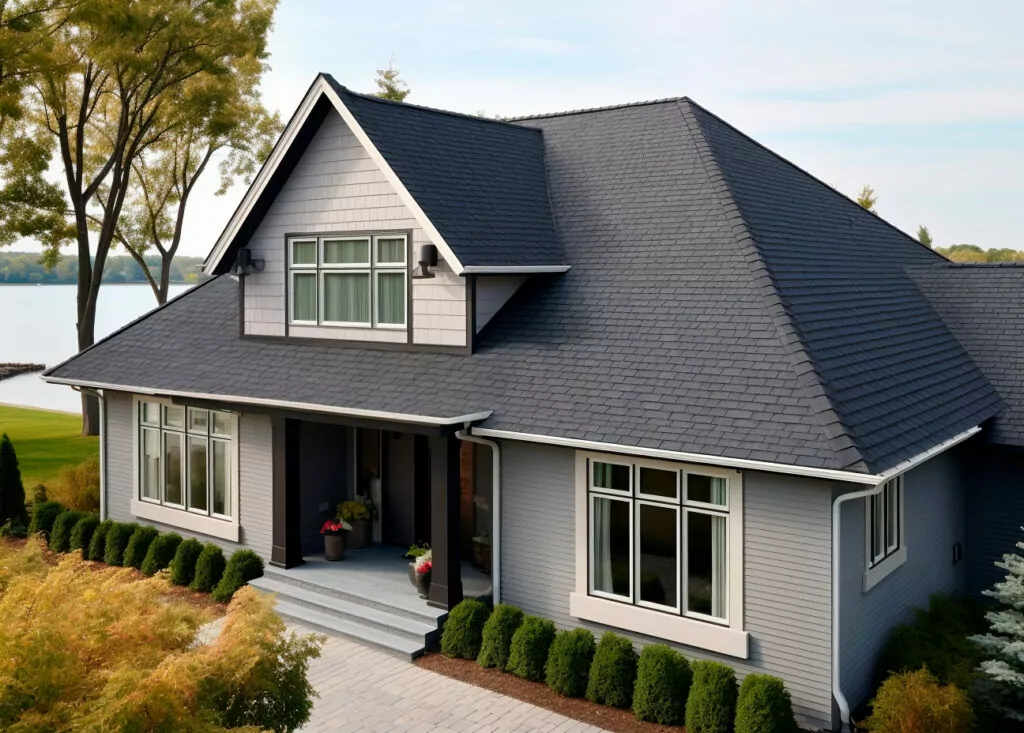 Reasons to Opt for This Material
Asphalt for roofing has multiple advantages:
Extensive color palette and a wide range of shapes and sizes
Compatibility with roofs of various styles
Lightweight and no necessity to install an underlying structure to carry weight
Lifespan of up to 30 years, with a warranty
Resistance to multiple sorts of damage
Ease of installation, maintenance, and repairs
Environmental friendliness
Excellent protection from heat, cold, water, and noise
The characteristics of asphalt can differ depending on the brand and the technologies used. This material has become so widespread because everyone can find a variety that will suit their needs.
For instance, most shingles can resist winds of over 62 mph. However, selected varieties can withstand up to 137 mph.
Another example is solar resistance. Any asphalt can protect you from summer heat. But if you want your attic to remain calm even on the hottest days, buy shingles with a granular layer that will reflect the UV rays most efficiently.
When it comes to environmental friendliness, shingles can be recycled and used to resurface roads. When you want to replace your old roofings, look for the contacts of companies that will accept your shingles.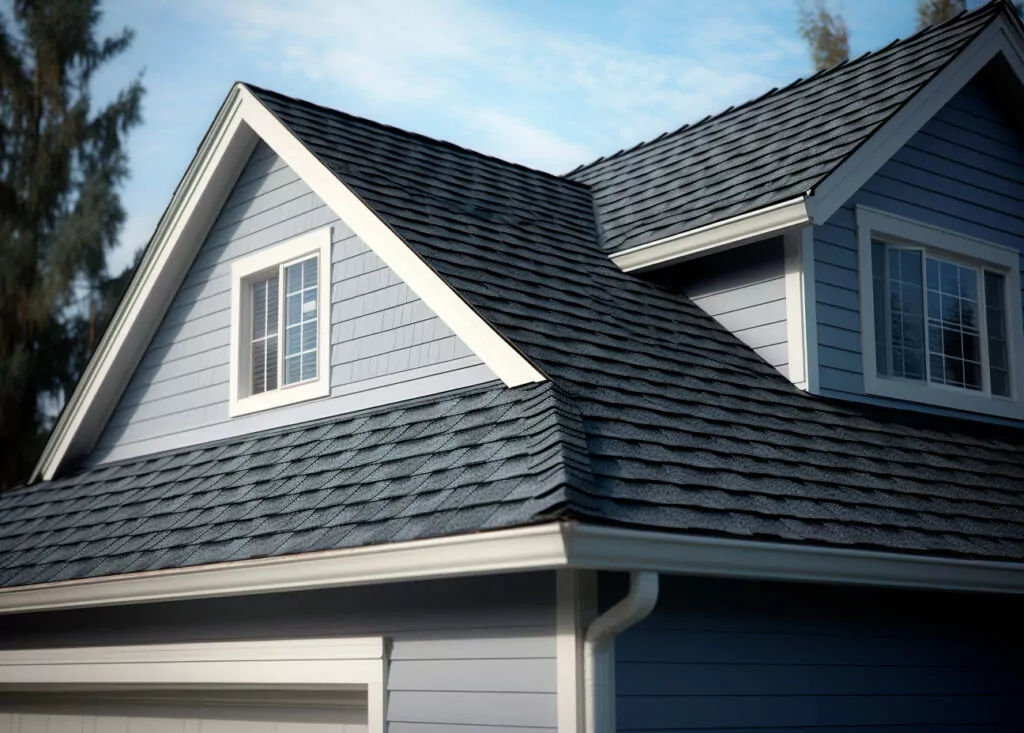 Asphalt Roofing Shingle Classification in Needham
Depending on the specifics of the manufacturing process, we can single out two shingle varieties:
Fiberglass. It's more modern, affordable, and everyday than its counterpart. Previously, all shingles used to have a layer of paper inside. Today, this layer can be made of glass. Apart from glass and asphalt, such shingles also contain mineral granules. Creating an underlying layer of felt saturated with asphalt is necessary to install such roofing. Over time, its notched ends will be unlikely to lift — this issue was typical among its predecessors. Plus, it's resistant to heat.
Organic. Compared to the previous one, it's heavier because more asphalt is manufactured. Companies impregnate recycled paper with asphalt and compress it under high pressure to produce it. The organic variety resists tears, strong winds, and temperature changes. It's flexible and perfectly conceals imperfections on the roof's deck. On the flip side, it costs more than fiberglass.
There can be other classifications. Each manufacturer can introduce its product. Nevertheless, any shingle on the market should fall in either the fiberglass or organic category.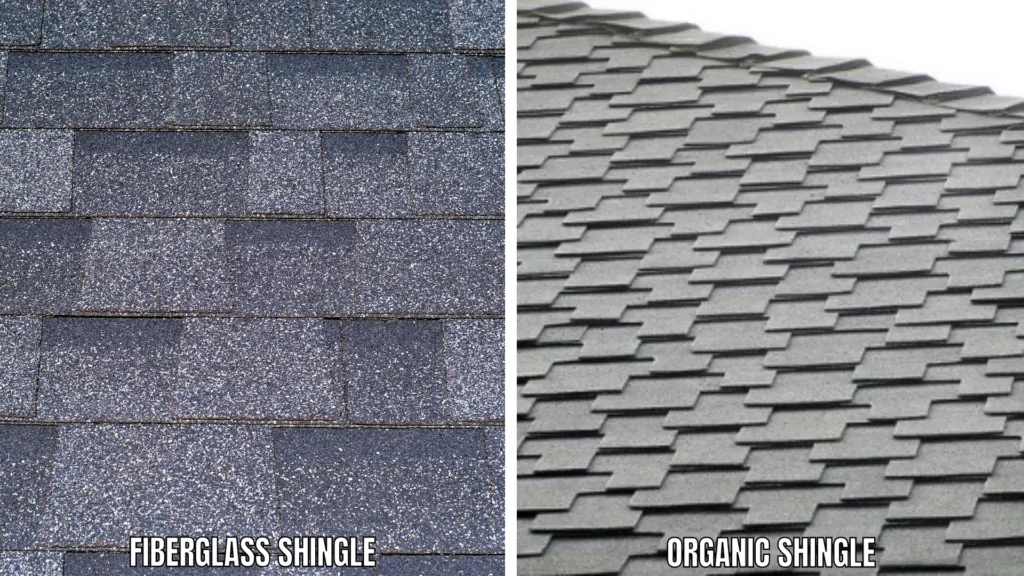 Asphalt Roofing Shingle Structure in Needham
Now, let's look more closely at the layers inside a shingle.
Granular surface. It's the upper layer that you can touch. It resembles granite by its texture. This layer can have nearly any color, and it protects the roof from sun rays. It prevents the shingles from becoming sizzling hot and fading prematurely. The surface might also feature additives that prevent mold, depending on the chosen brand.
Asphalt. The thicker this layer, the heavier the shingle. There might be not one but two layers of asphalt — in this case, fiberglass is usually put between them. Asphalt protects the surface from leaks even under pouring rain.
Mat. This layer is alternatively called "the base". It keeps all the other layers together, serving as a frame. The mat is highly resistant to changes in temperature.
Adhesive tabs. They are heat-activated, and they prevent asphalt roofing systems from fusing. To ensure the bills keep functioning as intended, you should never drive a nail through them.
Nailing strip. Stacking the shingles would be a mistake because they might become prone to cracks. The right way to handle them is to fix them. Please avoid driving the nails too deep — their heads should remain visible on the surface.
We addressed the mat layer when discussing the difference between fiberglass and organic asphalt.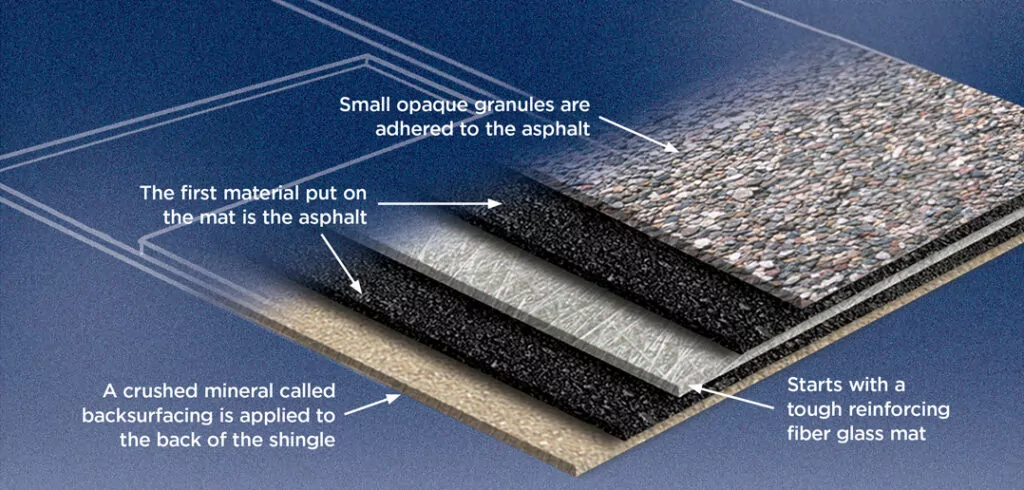 Slope Requirements for Asphalt Roofing in Needham
Asphalt roofing isn't compatible with flat surfaces. The minimum required slope is 9.5°. However, it's usually indicated as 2:12. Water and ice will likely accumulate on a flat roof and damage the shingles.
Consider using shingles with three tabs if the ratio is higher than the minimum required but lower than 4:12. As their name suggests; they have three layers of asphalt inside.
For anything higher than 6:12, architectural shingles should be the optimal choice. It's a costly, heavy, durable variety that can boast the highest quality.
Our experienced team can recommend the best type of shingle for your roof. Don't hesitate to call or text us right now! We'll explain to you what to expect from your new roof and share advice on minimizing expenses. The quality of our work will be top-notch and your asphalt shingles will serve you for decades, retaining their amazing looks and properties.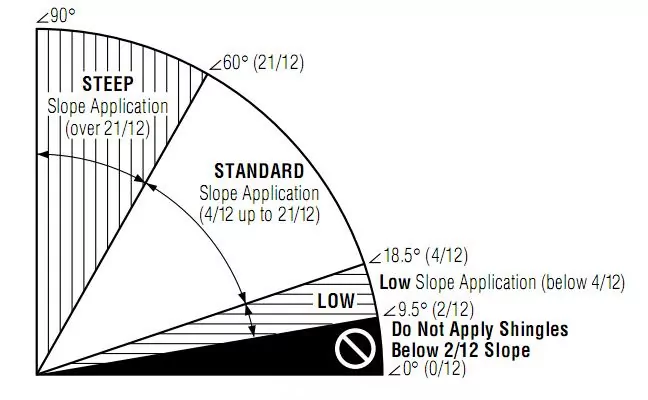 How to Calculate the Right Number of Shingles to Buy
If your roof has a simple design with two slopes and no extras, use this formula:
Calculate the surface area of a slope
Multiply it by two
Add 10% for potential losses and the crest.
Consult our professionals if valleys, ridges, or other decorative elements exist.
Calculating Shingle Quantity

Calculate the surface area

Multiply it by two

Add 10%
Maintenance Recommendations
To prolong the lifespan of your asphalt sheet roofing, it would be wise to:
Inspect the attic at least once per year. There should be no humidity. Insufficient ventilation can be harmful to all components of your roof, both inside and outside.
Inspect your roofing every couple of years. Look for scratches, dents, and other possible types of damage. Please avoid doing it every few months because your footsteps can harm the roofing.
Regularly check the condition of the plastic cement under the flashings.
Caulk any cracks and joints as soon as you notice them.
The vendor should be able to provide further advice to you. Our skilled roofers can share their wisdom with you, too.
Explore More: Your Asphalt Shingles Journey Doesn't Stop at Needham
This section broadens your horizons with dedicated pages on Asphalt Shingles in Boston and Brookline. Click here to delve deeper into roofing solutions in these neighboring cities.
Get a New Asphalt Roof in Needham, Massachusetts, Fast and at an Affordable Price
We'll happily cater to you if you live in Needham, Massachusetts! Our asphalt roofers are qualified and licensed. They have all the necessary skills, tools, and knowledge. We'll be ready to start the work as soon as possible. Our team will be working at a maximum speed without compromising on quality. We know the building norms for your area and meticulously comply with them. Clients who have already used our services leave positive reviews about us and recommend us to their acquaintances.
Please fill in the form on this page with your contact details! We'll get back to you very soon to provide a free quote. We can handle all asphalt shingle varieties and deal with projects of any complexity.