Everything You Need to Know About Asphalt Roofing
If you live in Brookline, Massachusetts, you can consider asphalt roofing for your house. It's a popular material that looks stylish and can serve you for many years. It's affordable, and its quality is usually very high. We'll explain why you might want to use asphalt for roofing and how to make the most of it. We'll talk about the existing types of shingles and the available designs. We'll analyze the life cycle of such a roof and focus on its installation process.
Arguments in Favor of and Against Asphalt Shingles
Here are the key advantages of this material:
Affordability
Availability in multiple textures and colors
Durability
Minimum maintenance
Simplicity of installation
Long life span in any climate
Ease of repairs and replacement
And here are its main drawbacks:
Compatibility only with specific types of roof slopes
The necessity to have roof vents
Risks of cracking and lifting in a storm
Probability of loosening shingles
Possibility of mildew
Limited life span, compared to other materials
Below, we'll provide more detailed information about asphalt roofing Brookline systems. You'll better understand the essence of the above-listed advantages and shortcomings.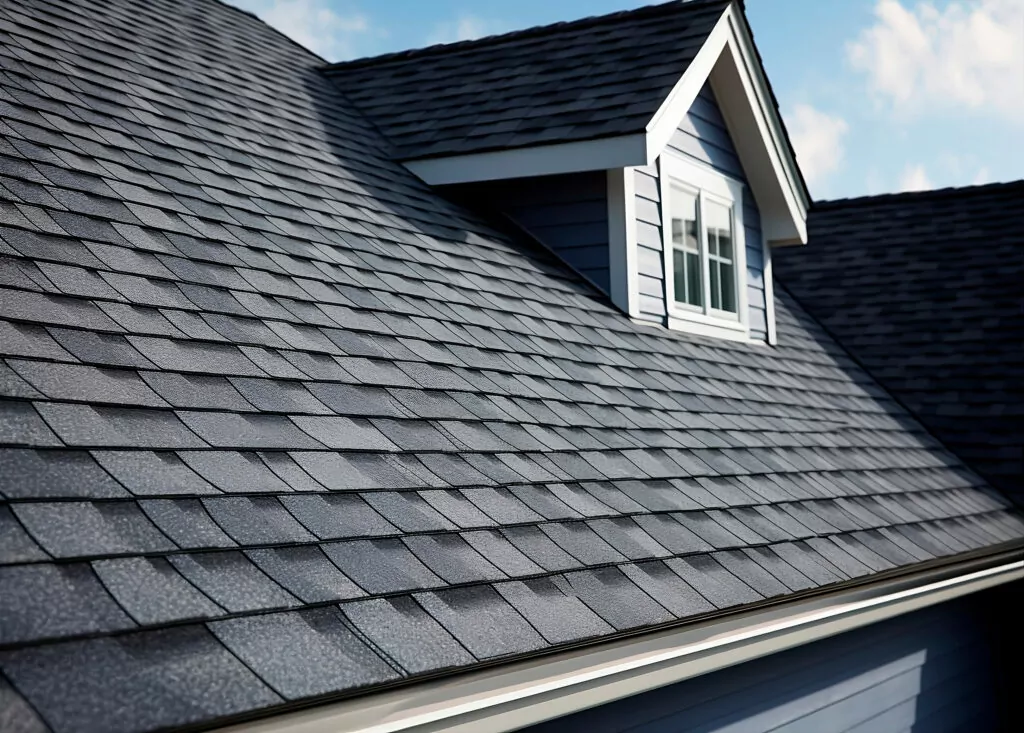 Roofs That Are Compatible with Asphalt Shingles
An ideal roof for this material has a 12-inch horizontal run and a 4-inch vertical rise. If the proportion is not twelve to four but to three or even two, asphalt can do as well. But if the slope is less than 12:2, consider alternative roofing options.
If you have doubts, call or text us! Or, leave your contacts and we'll call you back. We'll help you understand whether your roof is compatible with asphalt shingles.
Varieties of Shingles
The most popular shingle varieties are organic and fiberglass ones.
The former are pricier, thicker, and heavier. They contain around twice as much asphalt as the latter.
Fiberglass shingles have a higher fire rating and longer warranties than their organic counterparts in asphalt roofing Brookline systems. Plus, they might be a bit more durable.
One of the most recent additions to the market is energy-efficient shingles. They absorb less heat and prevent the roof from becoming sizzling hot. As a result, you don't need to keep the air conditioning on for the most part of the day. You'll end up paying less for your household bills.
Design of Asphalt Roofing Brookline
When you start looking for asphalt shingles, you'll discover that the selection of designs is extensive. The two most common varieties are laminated and stripped.
The former is more premium. It features several layers of tabs responsible for its dimension and texture. An asphalt sealant keeps the layers together, boosting their resistance to elements. Such shingles lack cutouts. Strip ones have them, and they're lined along the lower edges.
Strip shingles are called so because they come with strips of material in asphalt roofing Brookline systems. Most frequently, such shingles belong to the 3-tab category. The number three reveals the proportion of their length to height. At first sight, it might seem that you're looking at three separate pieces. The truth is that it's one shingle. This type is more budget-friendly than its laminated counterpart.
The term "luxury shingle" quickly catches the consumer's attention. In fact, it's not a separate type but a subtype of the laminated one. It's thicker and less prone to weather damage. Such shingles often boast customized designs. Sometimes, they resemble slate roofing.
Color Palette
When you think about asphalt, the first colors that come to your mind are black and gray. However, the palette of shingles is much more extensive. It includes brown, red, blue, green, and other colors.
When choosing the optimal shade, take into account the overall looks of your house and its surroundings. Don't forget about the building code of your area and neighborhood.
Any tone will fade over time. But if you opt for a light color, your roof might start to seem dirty prematurely. Instead, consider mixing lighter and darker shades. By doing so, you'll get a stylish design with vintage aesthetics.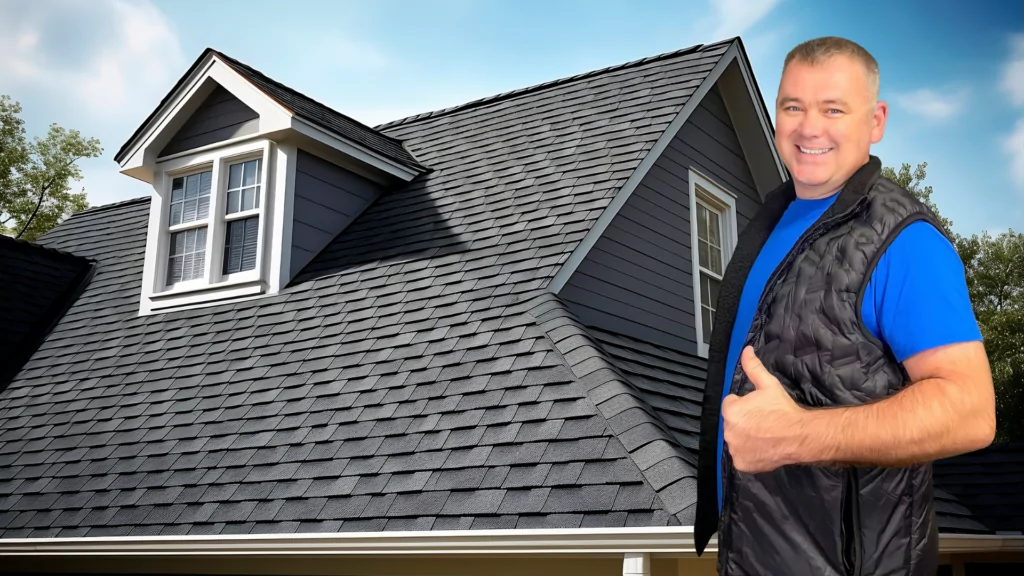 Life Cycle of an Asphalt Roof in Brookline
Now, let's look at the stages of an asphalt roof's lifecycle: installation, maintenance, and replacement.
Installation
Theoretically, you can install new asphalt roofing in Brookline right on your existing roof. At first sight, it can save you time and effort. However, professionals would discourage you from doing so. First, depending on the condition of the old surface, you might fail to attach the new one correctly. Second, you can discover spots that need repairs after dismantling your roof. It's crucial to check the integrity of the underlying structure first.
Then, stick to this scheme:
Lay down protection barriers. Attach an ice and waterproof barrier over the drip edge area.
Put down an underlayment layer across the entire roof. Make sure to overlap each strip.
Nail valley flashing and metal drip edging.
Attach the shingles. Move from the eaves to the roof's peak. Install the vents.
This work will be too tricky without experience, tools, and knowledge. It would be wiser to entrust it to professionals. Don't hesitate to contact us right now! We'll gladly consult you and provide you with a free estimate. Our prices are always affordable. All our contractors are qualified, licensed, and insured.
Maintenance
Asphalt sheet roofing requires minimum maintenance. Here are the main points to remember:
When you notice that a shingle is missing, don't postpone replacing it. Otherwise, the adjacent shingles might get lost soon as well. Besides, water or heat might damage the inside layers of your roof.
When you discover debris on the roof, make sure to clean it. Otherwise, it can scratch the asphalt or tear away the shingles.
After a storm, hail, or heavy wind, shingles might crack, lift, or get damaged in some other way. It's the most common risk of this type of roofing.
Don't forget to inspect your roof regularly to detect any potential issues before they cause harm.
Replacement
No matter which type of asphalt shingle you opt for in asphalt roofing Brookline, its condition will gradually deteriorate. Shingles will expand and contract because of air temperature fluctuations. UV rays and precipitation will make the surface of your roof fade.
Architectural asphalt shingles are the costliest. They can last for as long as 50 years. Other varieties cost less and last for around 20 years. Then, be ready to replace them and install new shingles from scratch. Repairs or enhanced maintenance will unlikely prolong the lifespan of your roofing.
Read about Asphalt Roofing Needham
Final Thoughts About Asphalt Roofing in Brookline, Massachusetts
Hopefully, now you have a better notion of asphalt roofing materials! This type of roof is affordable, long-lasting, and visually appealing. It will serve you for decades, requiring little maintenance. Removing the old roofing and installing the shingles properly is the most important thing. It's challenging work that requires skills and experience.
Our team of licensed asphalt roofers in Brookline, Massachusetts, will be glad to help you! Please share your contact details with us, and we'll quickly reply. We'll give you a free quote and answer all your questions. We'll be working fast to create a top-notch asphalt roof for you!